Overview
I decided to create a work to recollect my experience from 2017 to 2020 when I was staring at my postcard holder that I used to collect all sorts of ephemera and pieces of printed matter over the last few years. 
I couldn't recall the exact reason why I started to collect these things but I ended up with this postcard holder being all filled up. Even it weighs a lot, it was one of the first things that I decided to carry along with me when I moved from New York to Pittsburgh in the Summer of 2020.
Design Decisions
I was thinking about how this habit of collecting ephemera tracked the passing time and what I could reflect upon them, so I created this set of four AR sculptures using images from printed tickets I collected as tracking image sites. 
Each sculpture represents one of the four years and is made up of two parts: a 3D model of a roll of film using photos I've taken in that year as texture, covered by an orb with some text I wrote down when I was looking through the photos.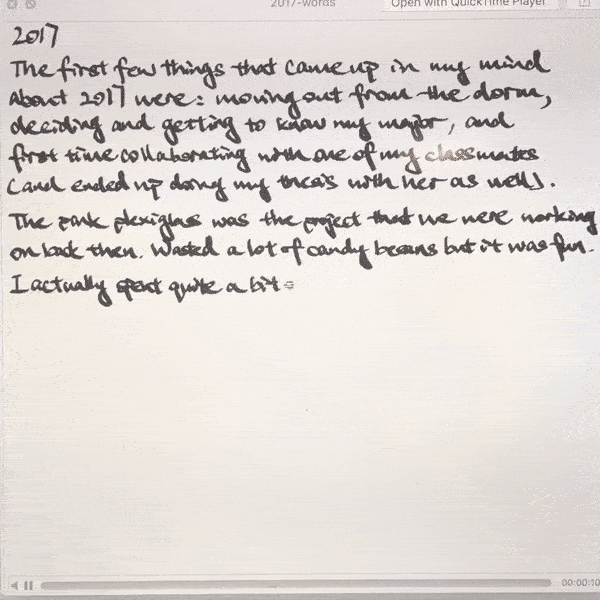 Development
I first recorded my writing in Procreate and then edit out the background with chroma key in Premiere, and finally imported into Unity as video texture with alpha channel. 
I also embedded sounds in the videos. The sounds are extracted from other videos I took in that year.